MANGO POWER EXPLORER
The Powerful Station in Your Exploration
2000Wh Battery
Big Capacity
Up to 1400W
super fast Charge
Order & Shipping on 30th April
Only 100 Get Early Bird Discount, FCFS!
Start A Giant Leap For World
Big Battery For All Your Needs
With a 2000Wh battery, the Mango Power Explorer can easily handle more than 90% of your power needs for your home and outdoor life, plus power professional tools or work as a backup power supply in emergency scenarios.
*The data based on laboratory. For reference only.
14 Output Ports with Maximum
2000W Electrical Load
Mango Power Explorer supports a maximum 2000W of continuous output and 4000W surge power, giving you the power you need. It can support all of your household appliances, from lights to laptops, fridges and power tools, or even a Tesla. Mango Power Explorer can keep your home, campsite or jobsite running.
1
Wireless Charging Pad *2
5W & 10W For Smartphone and AirPods etc.
3
Cigarette Lighter Port
120W
For Car Fridge etc.
4
AC Outlet *3
2000W
For Fridge, TV, Kettle etc.
5
USB-C PD *2
65W & 30W
For MacBook and Nintendo
Switch etc.
6
USB-A QC 3.0 * 4
18W
For Smart Phones, Speaker,
Tablets etc.
2 Wireless Charging Pads
Mango Power Explorer has 2 wireless charging pads with a
maximum output of 15W. It's easy and convenient to drop
your phone or AirPods on the pad and get a full charge.
* Wireless charging need device feature support
Fusion Super Charging Technology
Empowers Up to 1400W Charging Power
With the support of the Fusion Super Charging Technology, Mango Power Explorer can be charged simultaneously by solar power* (Maximum 1000W), wall outlet (300W) and USB-C PD input (65 W), reaching a full charge within just 2 hours with the maximum charging method.
* The Solar Panel is not included with Mango Power Explorer and must be purchased separately.
Live Green with Mango Power Explorer
Every time you fully charge your Mango Power Explorer by solar panels, you will reduce your CO2 emissions by 1.43 kg, the equivalent of 23.7 trees' absorption per day, all while lowering your daily energy expenses.
Get Your Free Prize Right Now !
Start A Giant Leap For World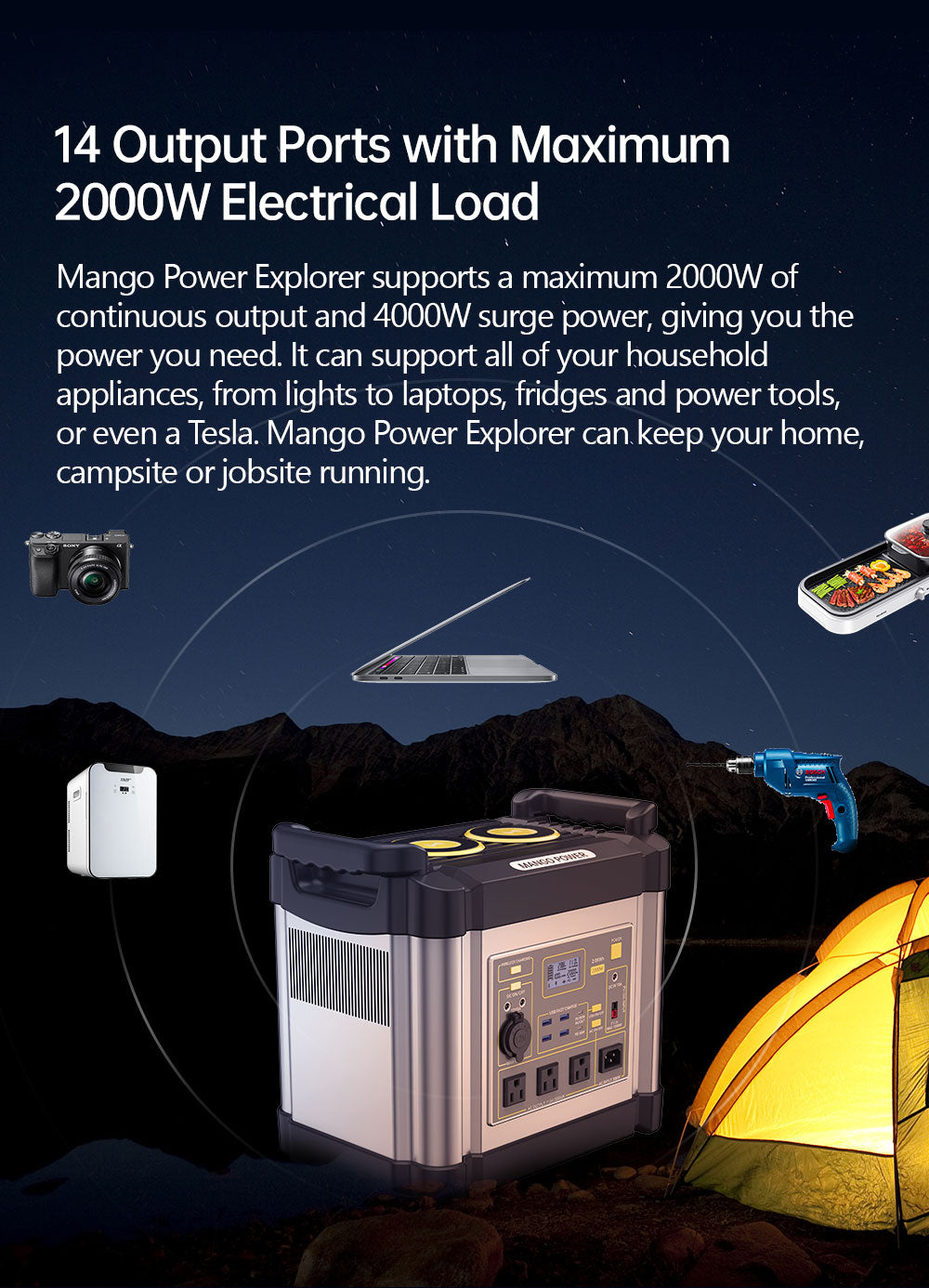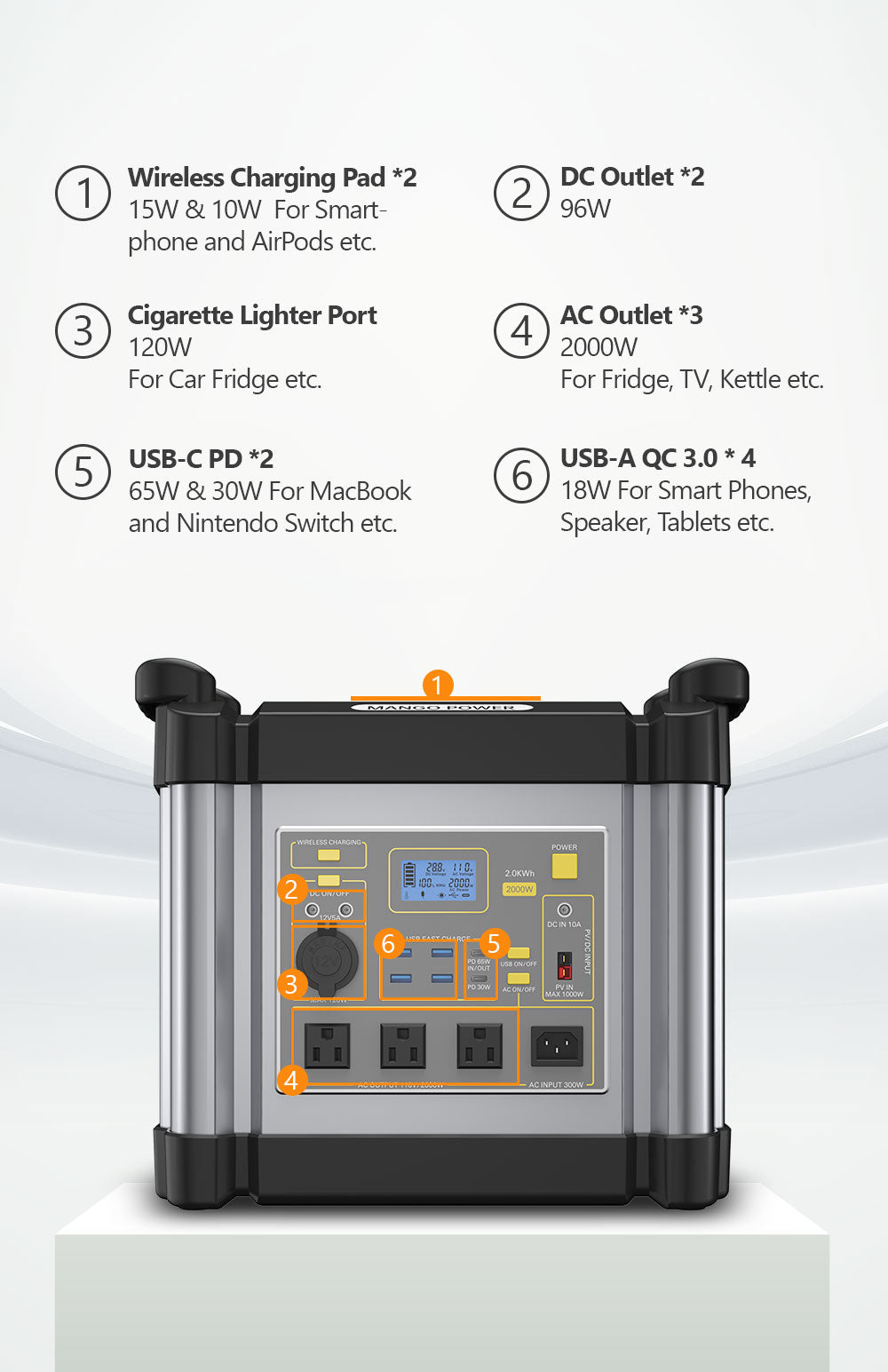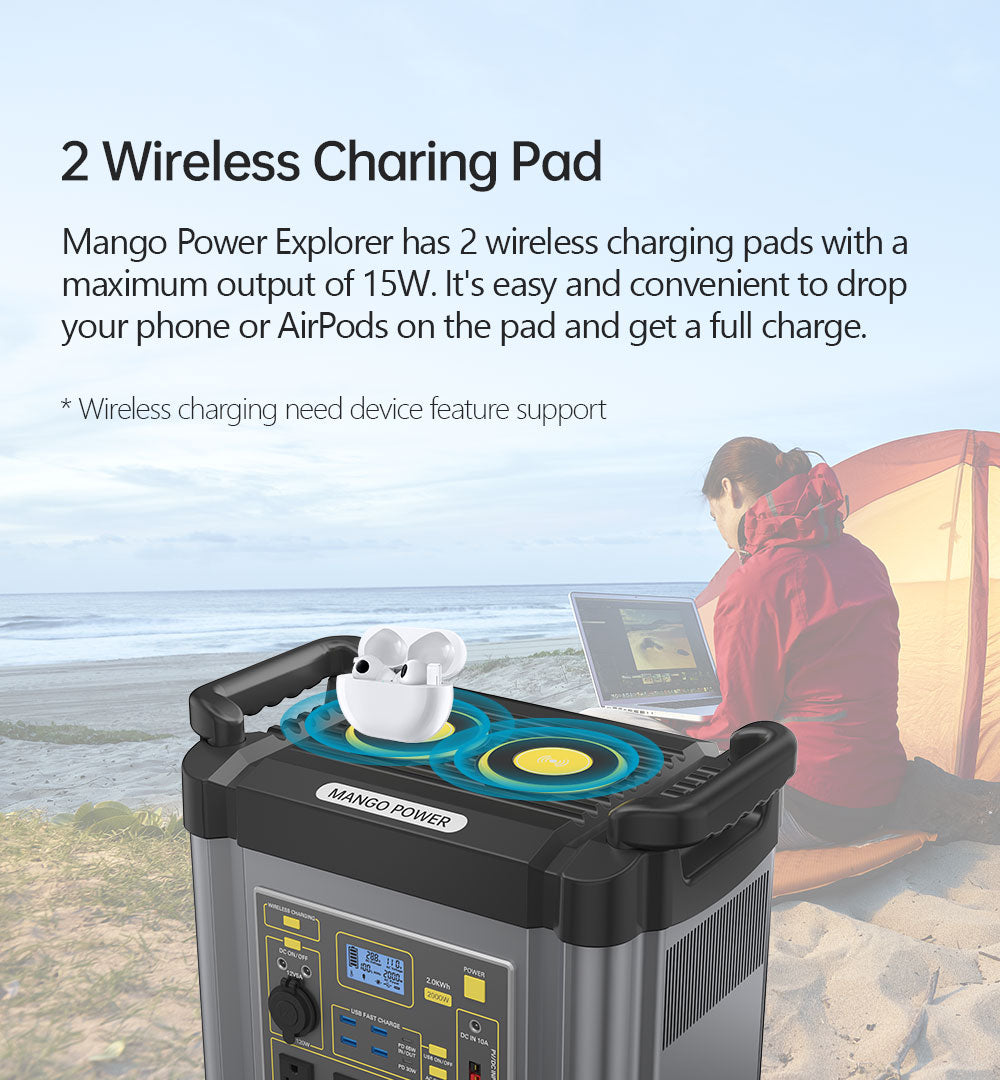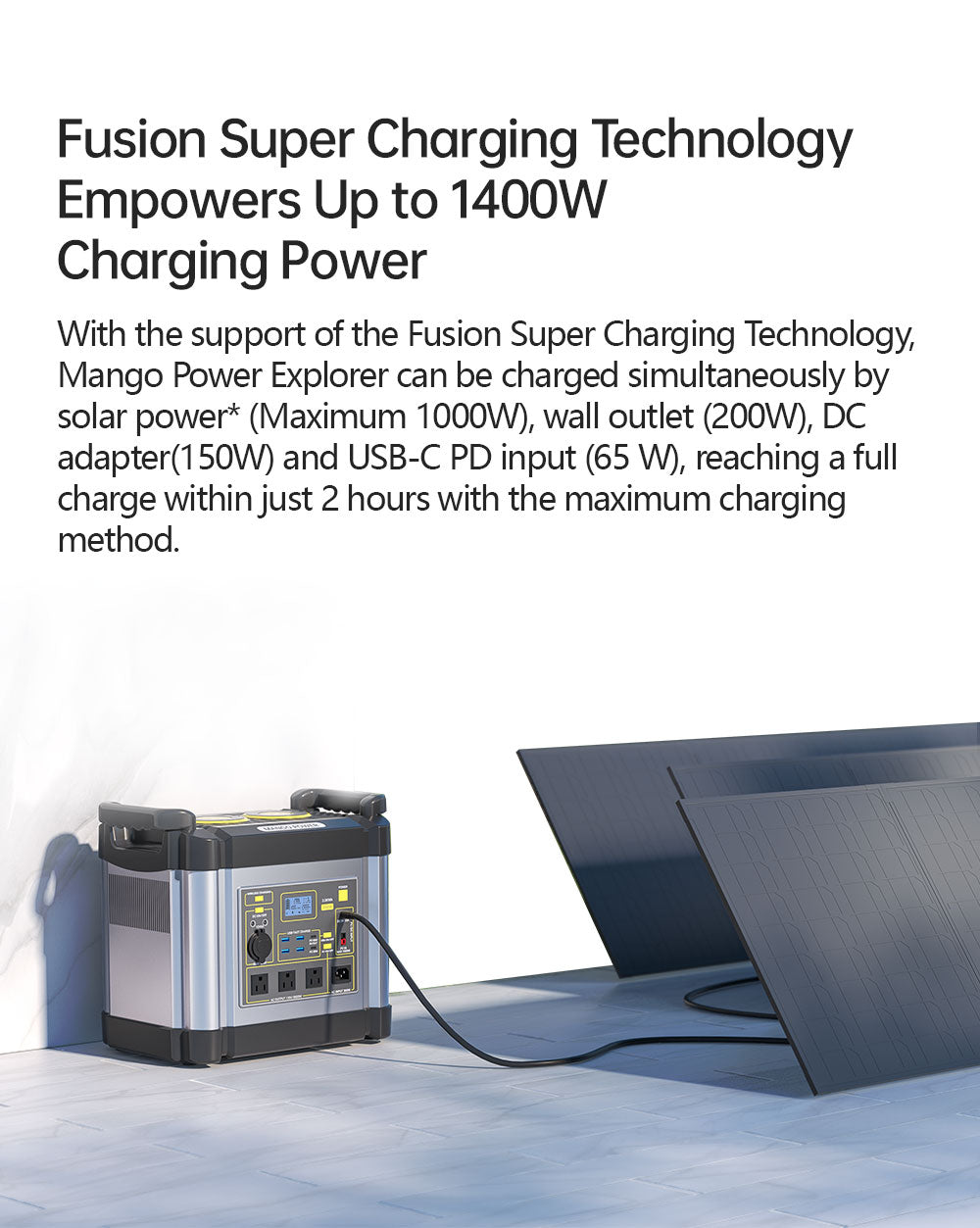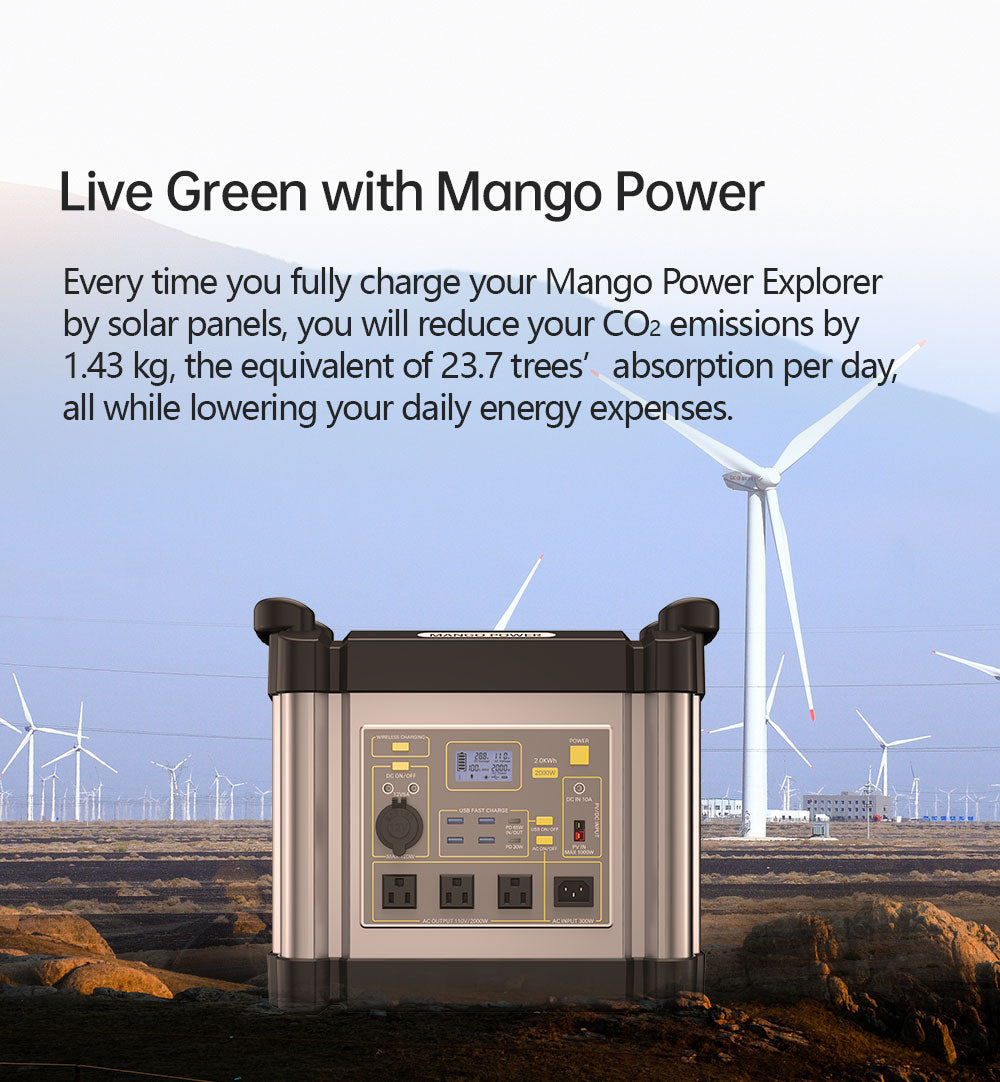 Get Your Free Prize Right Now !